Save the date – and register now!! Here's the 2015 convention registration form. Note: Convention fees go up after 14 March 2015. See below.
This year's AGPC annual Convention will be held in Bloomington, Indiana, on the grounds of Indiana University in the historic Indiana Memorial Union Biddle Hotel and Conference Center.  This will be the 31st convention since 1985, and the 2nd time that the convention will be held in Bloomington, Indiana.  The last time it was held there was in 1995.  Central to this year's  convention is the extensive Jerry Slocum mechanical puzzle collection housed on campus at the  Lilly Library.  This will be an opportunity to get to see the collection through a tour at the library on Friday morning, 15 May.  But the convention is also a time to bring together people interested in: making, collecting, assembling, displaying jigsaw puzzles; collecting, discussing and playing old games; and buying and selling all the above.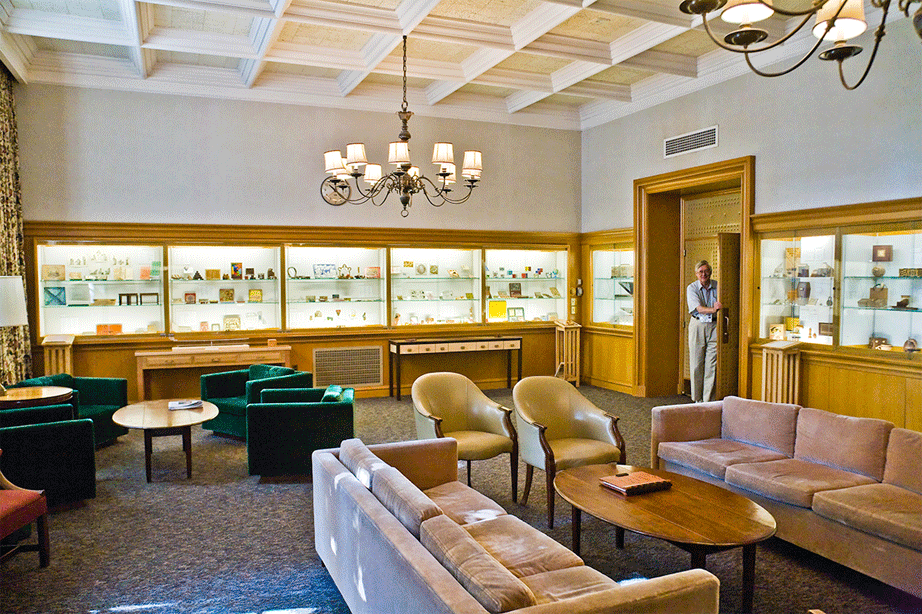 The Slocum Puzzle Room at the Lilly Library
Jerry Slocum is our honorary host.  He is also our speaker at the dinner on Friday evening, when he will share with us how he came to select the Lilly Library for his collection.  Saturday evening, we will have the opportunity to hear and recognize Gary Foshee, the AGPC 2015 Sam Loyd Award recipient.
Saturday morning will commence with the organization's General Business meeting. We will then have three presentations on games, jigsaw puzzles and mechanical puzzles respectively.  Ryan Brown will talk about the adventures of collecting Parker Brother Games and Memorabilia.  Co-host, and Bloomington's own Marc Tschida will give a presentation on jigsaw puzzles.  Andrew Rhoda of the Lilly Library will give a presentation on mechanical puzzles.  Table selling and auction are on the schedule for Saturday afternoon.
For those arriving early, on Thursday afternoon (14 May), we have a tour of Bloomington's famous Limestone Industry for a nominal fee.  We will look at the history of quarrying limestone that was used throughout the country in such building as the Empire State Building and the Pentagon.  We will take a tour of a quarry, and visit a limestone carver.  Separate from the tour, that evening we will have a room set aside for dinner at one of Bloomington fine restaurant.
Fill in and mail the registration form with your payment for convention fees to register for the convention now.  The "I'm Game Special" at $175/person is in effect now through 14 March.  Folks whose registration is postmarked after 14 March but by 4 April can take advantage of the "I'm Puzzled Special" at $195/person.  If your registration is postmarked after 4 April, the "Procrastination Special" is $215/person.  The 2015 convention is open to all members of the AGPC. If you are not yet a member, join now!
To make your hotel reservation, please contact the IMU Biddle Hotel at 1-800-209-8145 or (local) 1-812-855-2536, or on-line at www.imu-indiana.edu.  The room rates are: $105, $155 or $165/night plus tax depending upon the number and size of the beds.  Remember to give the Group Code: "AGPC" when registering.  Hotel guests will be given a complimentary parking pass upon check-in.
For those flying to the convention, it is recommended that you fly into Indianapolis International Airport, located about 60 miles from Bloomington.  There are two shuttle Services that can take you to the hotel.  The cost is $20 per person each way.  For more information, go to Go Express Travel at www.goexpresstravel.com or Star of America shuttle Service at www.soashuttle.com.
Hope to see you at the convention.  If you have any questions, please contact me at  dthomen@aol.com or (540) 752-0887.
Dave Thomen
Co-Host of the 2015 AGPC Convention
Long Term Convention Planning